Step into the grandeur of a Destination Indian wedding in USA, where cultures collide, and love stories unfold.  
Planning a destination Indian wedding in the USA is like embarking on a magical journey where traditions intertwine with modernity, and love knows no boundaries. The beauty of celebrating an Indian wedding amidst the backdrop of American landscapes, adds a unique charm and glamor to the occasion. A wide range of options await couples who venture into this beautiful realm, guaranteeing a wedding that is more than just an occasion but an unforgettable memory. Here, The Los Angeles Videographers presents a comprehensive guide to planning an amazing Destination Indian wedding in the heart of the USA.
A Step By Step Guide to Plan A Destination Indian Wedding in USA
#I Choosing the Perfect Venue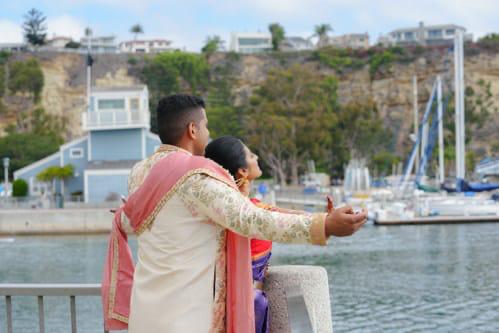 At the heart of every extraordinary Indian wedding lies the choice of venue. It's not just a location but a place where your love story unfolds. Imagine exchanging vows on a pristine beach at a luxurious Malibu resort, with the sun setting on the horizon, painting the sky in shades of pink and gold. Or perhaps, within the historic walls of a French Quarter mansion in New Orleans, where every corner whispers tales of the past. The venue should be visually stunning, accessible and also accommodating, ensuring a seamless experience for you as a couple and also your guests.
#2 Embracing the Cultural Fusion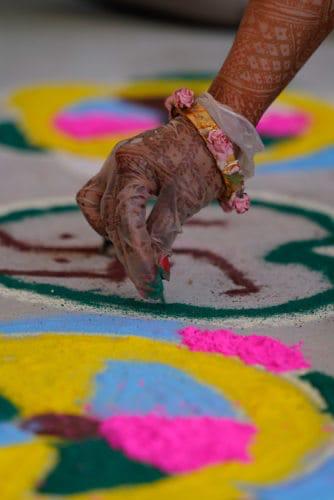 A hallmark of destination Indian weddings is the harmonious fusion of tradition and modernity, a delicate balance that adds depth and character to the celebration. When it comes to attire, the bride can choose a lavish lehenga, adorned with intricate embroidery, while the groom can wear a regal sherwani, radiating with classical Indian charm. The decor can be a canvas of vibrant colors, traditional motifs, and fragrant blooms, creating an ambiance of Indian festivities. Yet, there's room for modern aesthetics as well. You can include fairy lights to adorn the mandap, have contemporary table settings, and innovative floral arrangements for a charming Indian wedding that fuses with Western modernity.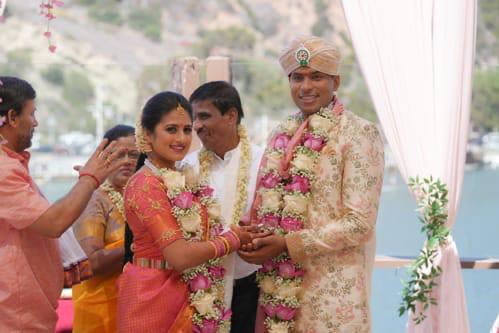 #3 Food and Catering
Indian food, with its diverse flavors and spices, is a highlight of any Indian wedding. For a destination Indian wedding in the USA, the culinary experience can be a delightful blend of traditional Indian delicacies and American favorites. Imagine a buffet spread featuring butter chicken and biryani alongside gourmet sliders and artisanal desserts. The menu can cater to a range of tastes, ensuring that every guest, regardless of their culinary preferences, finds something to savor. An experienced catering team can transform the wedding banquet into a feast, leaving guests with a taste of cultures on their palates.
#4 Entertainment for the soul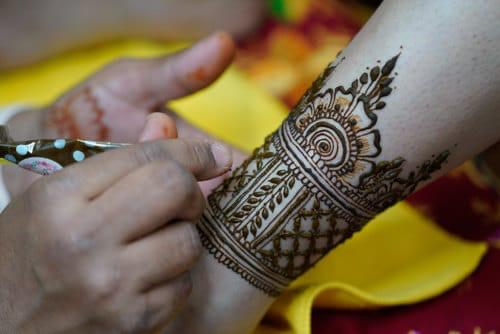 Entertainment is the soul of any celebration, and in an Indian wedding, it takes on a whole new dimension. Live Indian bands playing soulful melodies, energetic Bollywood dance performances, and interactive sessions for guests are some options that you can opt for. Consider incorporating traditional Indian games and activities, ensuring that everyone, from the youngest to the oldest guest, is engaged and entertained. Additionally, surprise elements like a spectacular fireworks display or a surprise flash mob can add an element of excitement, creating unforgettable memories for everyone present.
#5 Capturing the Precious Memories with The Los Angeles Videographers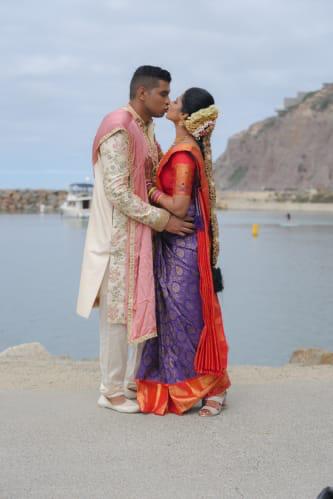 At your destination Indian wedding in the USA, the choice of videographers and photographers is more than just a practical decision. It's a critical investment in preserving the very soul of your celebration. Hiring specialized professionals like The Los Angeles Videographers is extremely important.
Destination weddings come with unique challenges, such as varying lighting conditions and homely backdrops. The Los Angeles videographers are seasoned professionals who excel in adapting to diverse environments. Our expertise guarantees that your Indian wedding videos and photos are not just technically flawless but also artistically captivating, capturing the essence of each moment regardless of the setting.
Our professional team of experts also understands the intricate nuances of Indian weddings. From the significance of the Baraat procession to the emotions embedded in the Vidaai ceremony, our familiarity with Indian customs and traditions ensures that no moment goes unnoticed.
Contact The Los Angeles Videographers now to capture your destination Indian wedding in the USA.